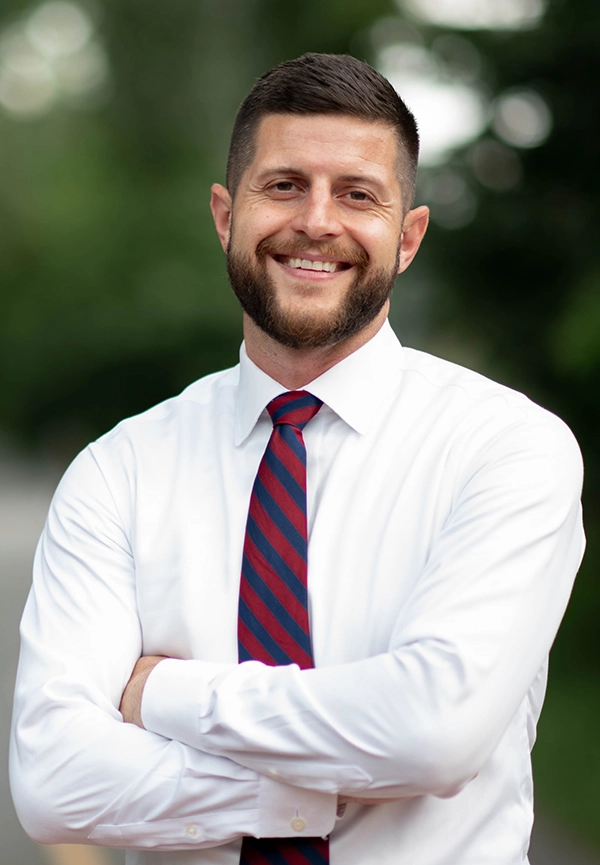 BRANDON WARD
Why are you the best choice to represent District 2?
I bring a strong history of public service and community leadership, as well as a collaborative mindset and nuanced perspective to this work – traits that will be instrumental to getting results on the City Council.
In the past five years, I've been proactive about getting civically involved in the community; I serve as a member of the Keefe Tech School Committee, as the Board President of Friends of Saxonville, on the Board of Directors of Downtown Framingham Inc., as the District 2 Representative on the 2030 Advisory Council, and as the Executive Director of Leadership MetroWest. I'll bring this experience, as well as a fresh voice to municipal issues.
On the City Council, I will be an advocate on behalf of young families, new residents, those struggling to make ends meet, and those who don't have the time, energy, or resources to have their voices heard. And I'll always be guided by my values and my belief that our city is at its best when everyone has a seat at the table.
If elected, what are the issues you'd like to focus on first?
My top three priorities are
1) supporting educational opportunities and career training through Framingham Public Schools, Keefe Tech, and job training programs;
2) investing in quality of life improvements, including adding amenities to the Cochituate Rail Trail, rebuilding the Carol Getchell Nature Trail, and advocating for recreational upgrades to Winch Park, Danforth Park, and Reardon Park; and
3) leading Saxonville's revitalization efforts and advocating for smart development of underutilized commercial properties, such as the old State Lumber property, as well as increasing affordable housing options and expanding access to public transportation.
How would you work to implement your ideas on those issues?
I have already begun, and look forward to continuing, to develop relationships in City Hall, on the City Council, on the School Committee, and with local community organizations that will be imperative to making progress on these issues.
For educational opportunities, I look forward to working with our School Committee and the Finance Subcommittee to ensure we're adequately preparing for universal pre-k in our school district, expanding dual language programs, and creating pathways to vocational and technical careers.
For quality of life improvements, I plan to be an advocate and leader for Saxonville in securing local funding for trails and parks, including CPA funds.
And for Saxonville's revitalization, I will continue to advocate for our small businesses and growing artist community in the mill, as well as work with the old State Lumber property in creating a strategic plan that prioritizes the needs and interests of Saxonville residents.
What can the city do about traffic in and near District 2?
The biggest current issue is the McGrath Square intersection where Central, Water, Elm, Concord, and Danforth all meet. As Board President of Friends of Saxonville, I've been involved in productive conversations on this project – and I look forward to continuing to work with the city to bring this project to fruition in a way that reduces traffic, increases driver safety, and provides better crosswalks for pedestrians and more parking options for drivers.
There is a lot of neighborhood unhappiness about Nobscot development plans on one side and a lack of development at the old Saxonville Lumber. What is anything can/should the Council do about these issues?
In terms of the newly proposed Nobscot development (not the one already being built), I think it's important that the City Council not allow any development that will negatively affect the surrounding community, especially residents on Livoli and Edmands.
For the old Saxonville Lumber property, it's imperative that the City Council (in collaboration with the city's Economic Development department) begin developing our desired proposal for this property so that we are ready to act when the current long-term lease agreement expires.
What are your thoughts about the current city budget? Are any changes needed in current spending priorities?
I think there is an increasing need for Framingham to prioritize funding for facilities maintenance and capital improvement projects. The city's portfolio of buildings and properties continues to grow. This year, this issue was highlighted by the acquisition of the old Marian High School building, the Bethany property, and the 188 Concord Street building – all of which will require significant work, upkeep, and in the interim, general oversight.
Although our local elections are "non-partisan," once again this year we have a Republican and a Democrat running for the seat. How might your party affiliation inform your work as a City Councilor?
I am a registered Democrat, and in this election, I am running with the endorsement of the Framingham Democratic Committee and Progressive Framingham/MetroWest. My personal values and life experiences have led me to identify as a Democrat, as well as to seek these endorsements – and those beliefs and experiences will continue to influence how I approach decisions on the City Council. If elected, I'm committed to making Framingham and City Hall a more equitable, inclusive, and welcoming place for all residents.
What if any are your plans to keep in touch with residents in the district?
Knocking on doors and meeting District 2 residents over the last four months has been a highlight of this process, and I look forward to continuing those conversations and relationships. I am deeply involved in local community organizations such as Friends of Saxonville, and I plan to continue that work. I also plan to remain present and active on social media, which I view as a great resource for keeping residents informed of what is going on in the community. And lastly, I look forward to finding new ways to communicate with voters via an email newsletter and through public "office hours."
What's the best way for voters to find out more about your candidacy? (Web site, Facebook page, etc.)
If you'd like to learn more about who I am and what I care about, please visit my website (www.wardforframingham.com), follow me on Facebook (https://www.facebook.com/wardforframingham), or send me an email: wardforframingham@gmail.com. I look forward to speaking with you!
Also see: Framingham District 2 City Council Candidates Q&A

Sign up for the District 2 email-list.