Three events with neighborhood ties/likely interest going on elsewhere in the city in the next few days:
Veterans Day Ceremony - Saturday, Nov. 11, 11 am to 12:30 pm in Nevins Hall at the Memorial Building (150 Concord St.). U.S. Rep. Katherine Clark, Mayor Charles Sisitsky, and Massachusetts National Guard State Commanding Sgt. Major James L. Campbell Jr. will be speaking. The city will be awarding a dozen Medals of Liberty and one Medal of Fidelity.
Friends of Framingham Trails meeting Saturday, Nov. 11, 10 am at the Loring Arena conference room (2nd floor) including discussion about the Bruce Freeman Trail project that goes through District 2.
Birthday Celebration & Fundraiser for local State Rep. Jack Lewis at Jack's Abby, Thursday, Nov. 16, 5:30 to 7:30 pm. More info: https://secure.actblue.com/donate/jackbday2023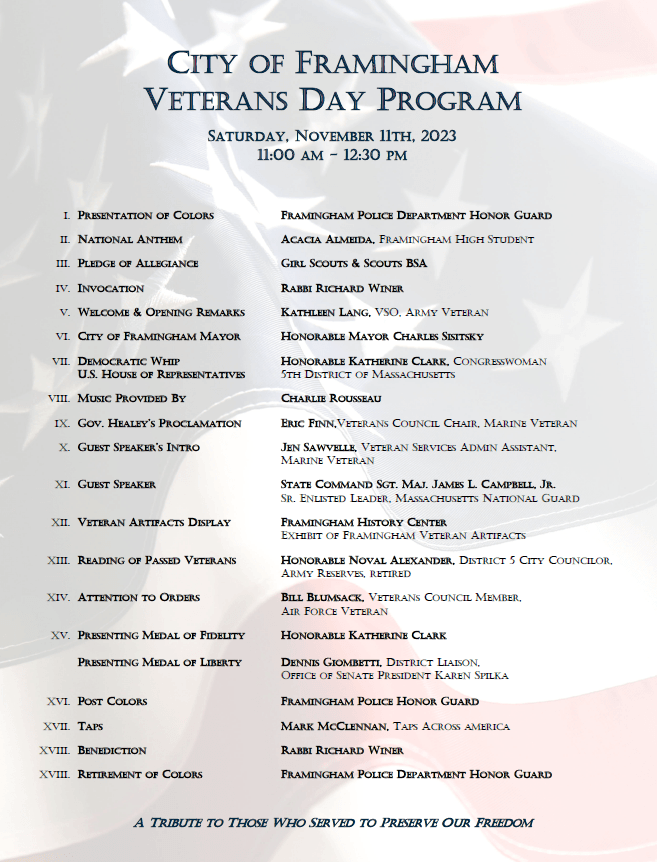 Sign up for the District 2 email-list.