(Updated Nov. 7 with official results)
Janet Leombruno edged out Gloria Pascual for the second At-Large Framingham City Council seat Tuesday, despite not winning a single precinct. Incumbent George King finished comfortably in first with 4,315 votes, winning by almost 900 votes and topping the results in 14 of 18 precincts. Two years ago, he won his seat by less than 25 votes.
Leombruno finished second in nine precincts, including her home Precinct 5, which had the highest number of voters turn out this year.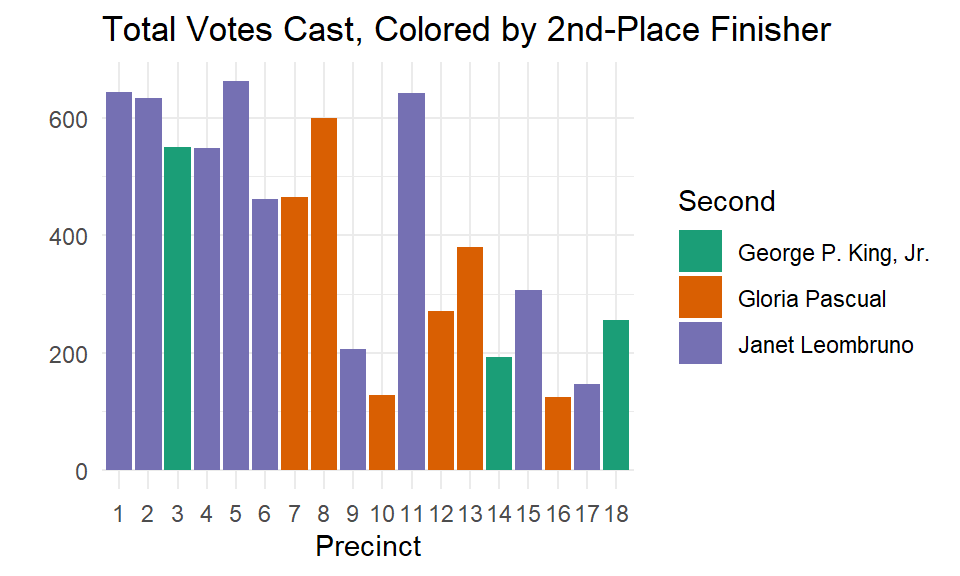 Pascual won 4 precincts but fell 53 votes short, according to unofficial results by precinct emailed from the City Clerk's office. (I updated all data on Nov. 7 based on official results posted on the City Clerk website.)
Of the four precincts Pascual won, only one – Precinct 3 – was a high-turnout precinct. The other three combined had fewer voters turn out than Precinct 5.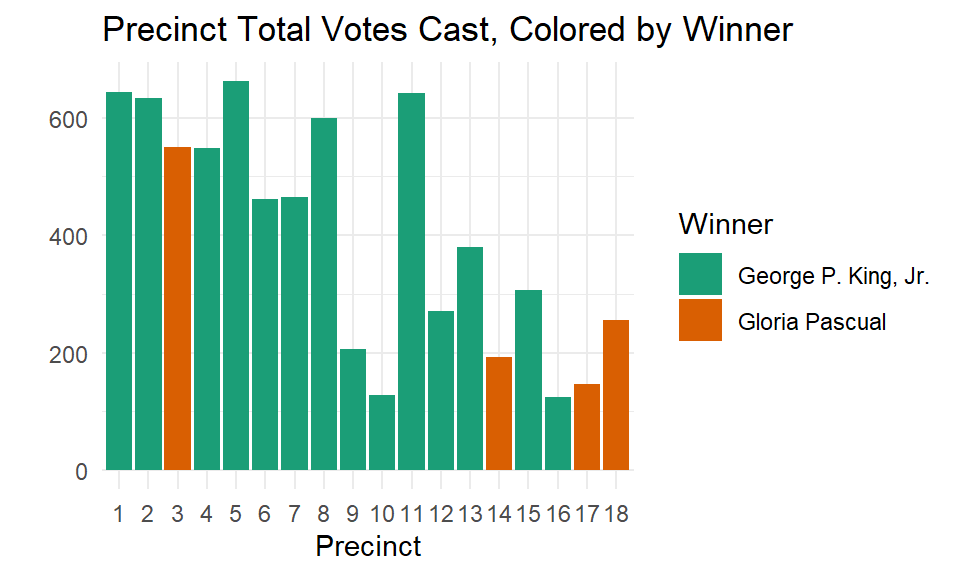 In the interactive graph below, you can see that King's vote totals in five precincts were higher than either of the other candidate's by-precinct finishes. Click King on the legend to temporarily turn off his bars in order to better compare Leombruno and Pascual, and you can see where the big differences were by precinct between them. Double-clicking on a candidate's name in the legend shows only that candidate's bar. Mouse over a bar (tap for mobile) to see its underlying data.



Below are the details in a searchable, sortable table by precinct. Each column is sortable – click once for ascending sort and a second time for descending. The column LeombrunoVsPascual shows how many more (or less) votes Janet received compared with Gloria in that precinct. Precincts 6, 11, and 1 gave Leombruno her largest vote margins.
(Note: Sorry the table is wider than the rest of the page and might not display well on mobile. I just didn't have enough time to fiddle with HTML and CSS.) Use the dropdown to show all precincts instead of only the first 10.)


Sign up for the District2Framingham.com email list!!
See neighborhood events at the District 2 calendar. For events throughout Framingham, visit FraminghamEvents.com – now also available as an Amazon Alexa Skill (just say "Alexa, enable Framingham Events").

Sign up for the District 2 email-list.