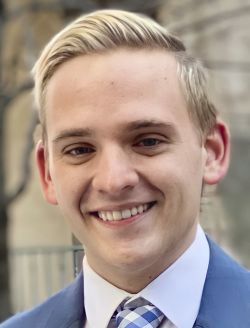 Why are you the best choice for District 2 City Councilor?
I believe that I am the best choice for District 2 City Councilor because I will introduce a new generation of leadership to the city, offering a fresh perspective and an honest, can-do attitude that will get things done for the district and the city.
Over the past few years, I have just seen very little productivity and results come out of our Council. If some of our biggest accomplishments are creations of other committees and official stationery, what does that say about our city when people are being hurt by cars on their own streets, our local businesses desperately need support from the city, we are making marginal progress on the sustainability issues, and so forth? Rather than focus on drama and spending my energy on who said this and who said that, I would go to work every day for District 2 making sure that we are seeing results.
I work with everyone and I always have. I am a collaborator at heart and I won't let personal relationships stop me from working with my fellow councilors and whomever is mayor to accomplish what is needed in Framingham. I understand that the work is too important not to get done and anytime spent on pointing fingers is time we can't get back. I have dealt with the hoops you must jump through to get things done in this city for many years, dating back to my freshman year of high school and wanting to host a carnival to lower costs for class events. Just like I did not give up on that goal, I will not give up on District 2. I have always, and will continue to, put my all into everything that I do and follow through on my commitments.
What are the top three issues you want to work on in the 2022-23 term?
There are certainly more than three things I will work on in the first year, but three issues I will work on from the outset will be revitalizing Saxonville and Nobscot, improving the accessibility and safety of our streets, and supporting effective environmental initiatives. In addition to strong schools and a strong local business community, I believe that these three issues are vital to the future of our city and are issues that have not seen nearly enough progress in our first years as a city.
We are blessed to have incredible people and beautiful natural vistas in District 2. Just to name a few, we are fortunate to have the Sudbury River oxbow, Hultman aqueduct, the lower mills shops, community gardens, and a beautiful beach. We need to celebrate these, enhance these, and make them more accessible focal points of the city. I believe that we need to reimagine our neighborhoods to promote a more inviting, easily traveled, and beautiful community that showcases our natural resources and local initiatives.
How would you work to implement your ideas on those issues?
In my first year, I will meet with residents, business owners, environmental leaders, and all stakeholders in the community to ensure that any action I take is based on what my neighbors are telling me their priorities and needs are. I will host many listening sessions, working conversations, as well as meeting people where they are to make sure everyone is listened to. With each conversation, I will ensure that there are action items, not just buzzwords, and I will spend every single day making sure those action items become accomplishments.
Based on these conversations, I will get to work on finding solutions and charting a path to get them done. I will utilize my knowledge of public policy to craft thoughtful, high-quality, and effective policies for our community. I will work with everyone, those I agree with and those I disagree with, to advance our common interests. I will not tell my colleagues to "shut up" like my opponent nor will I rubber stamp the Mayor for the mismanagement of water and sewer rates, cutting our schools or looking for money for political junkets. I will be accountable only to the community members of our district and I will show up and deliver for our city.
There is a lot of neighborhood unhappiness over the Nobscot redevelopment project, both the shopping center and intersection redesign. What are your thoughts about this, and what if anything can/should the Council do about it?
The blight that project has created for our district, among several other vacant eyesores, is one of the main reasons I decided to run for this seat. I believe the residents of this district deserve a neighborhood that is beautiful, walkable and welcoming. It is unacceptable that private negotiations by political insiders ignored the pleas of residents for a right-turn lane, community improvements and redevelopment of Nobscot Plaza before giving the developer everything he wanted. That is totally unacceptable. It is even more unacceptable that we don't see vocal representation for this unhappiness in city hall. If we did, we'd see progress.
Our Council can and must do something. At the very least, this involves regular community conversations, creative thinking, and zealous advocacy. If elected Councilor, I will not sit on my hands for two years as the project continues to see minimal progress and no community input. I will work with residents and business owners to identify specific neighborhood needs and I will then talk to whomever I must and do whatever I must to make sure this stagnance ends.
What if anything would you like to see changed in the city's current budget priorities?
As a young person living in Framingham, I believe that our budget should match our community and our priorities, with a focus on creative solutions that drive us forward. Instead of spending money on junkets such as cars for elected officials and conferences, we need to focus on improving our neighborhoods with safe streets, beautification, investing in our small businesses and ensuring our schools have the resources they need to thrive.
As Councilor, I will bring the budgeting process to the people of my district. I will ask my neighbors and local stakeholders what they need, how they'd like their money spent, and I will be a strong voice for these needs when it comes time to craft the city budget. I will go through the budget with a fine-toothed comb to make sure that every penny is being spent wisely and on things that are truly important to the residents of Framingham.
How would you like to see the city move forward in this stage of the Covid-19 pandemic?
As someone who has had Covid touch my family, I worry deeply about how Covid has and continues to impact our lives, and the dangers of not taking our response seriously. I worry about those seniors who are feeling isolated, alone or without the resources to thrive. We need to ensure that our seniors have the access to medical care, technology and are connected to those they care about.
Having seen the impact this pandemic has had on my little brother's education, I worry, too, about our kids' access to education and their social/emotional health. We must continue to focus on providing our schools & teachers the resources they need to help Framingham's future learn in an environment that helps each student thrive.
What have we learned after our first four years under a city form of government? What if any changes are needed to our charter?
I believe in the promises of our charter. I have been impressed with how parts of our community that were ignored by town meeting have an equal voice in our government, we learned to balance our budget, and support our schools. That said, these are quite base-line achievements and we must do much more and much better. We have yet to use our charter to its fullest potential. The charter provides the tools but it is the people elected to represent us that need to step up to realize these promises. I believe that we've learned that ego has no place in city governance and that it takes dedication and proactive representation to get things done. I don't think that more modifications to our charter really addresses the core problems we've been experiencing during our first four years as a city. While I am always open to good ideas, I think the most important thing we can do to improve our performance over the first four years is to send the right people to city hall – people who understand the needs of their community, listen and work well with others, and are focused on results.
Although our local elections are "non-partisan," it's hard to ignore the fact that the leader of the city's Republican party is challenging a top official in the city's Democratic party! How will your work at your party's local committee inform your work as a City Councilor?
Our elections are nonpartisan, no quotations necessary. They are nonpartisan because good roads, quality schools, and safe neighborhoods are not liberal or conservative. I, among many I've talked to during this race, are just tired of divisive politics, especially here at the local level. As one of the youngest elected officials in New York, Josh Laffazan, said "potholes are not partisan." What is important is what you stand for and what you do about it. For example, I think my opponent and I agree on many issues in theory such as strong public schools and creating a greener and cleaner Framingham. However, he has voted to cut funding to our schools multiple times and has watered down efforts to fight climate change by gutting the original proposal for the Sustainability Committee. By contrast, I would support funding for our schools and work aggressively to combat climate change with a clear mission, actionable goals, and deadlines.
If you know me, you know that I never let my personal feelings get in the way of my work. I pledge to work with anyone and everyone, those that I agree with and those I disagree with, to work in the best interest of the people in District 2.
What's the best way for voters to find out more about you and your candidacy (Web site, email list, Facebook page, Twitter, etc.)
The best way to find out about me is to shoot me a text, call or email anytime and I'm more than happy to chat and answer any questions. My cell phone number is (508) 808-8378 and my email is jbinnall24@gmail.com. I implore anyone who's looking to learn more about me to reach out to me directly and have a conversation. I'd love to get to know you too!
Aside from that, my Facebook page would be another place I'd direct anyone looking for information. Additionally, you can visit my website at www.jakebinnall.com to reach out to me or learn more about me & my candidacy!
Is there anything else you'd like to say to readers at District2Framingham.com?
A saying I've heard since I first became interested in government is that elections have consequences. It was not until I really began paying attention that I really understood the truth behind that, and Framingham is no different. If we truly want to see action on the issues we care about, we need to elect people who will put Framingham's residents above themselves and are committed to the work. We need less politics and more policy.
If you, like me, are upset with Framingham's lack of progress on almost any issue that matters, feel like you lack a true advocate for your needs & priorities in city hall, and are tired of endless fighting in our government, I ask for your support on November 2nd. I am optimistic that Framingham can have a bright future ahead of us and become the leader in our region we are meant to be, but we need leaders in our government that are ready and willing to make that happen. I will be that as a Councilor.
I hope to have the opportunity to meet anyone reading this and talk about what matters to you. Our government does not need to make front-page news for petty squabbles and nonsensical drama. I have seen first-hand what productive local governments can accomplish when people come together with a goal and a drive to get it done, so I know we can do better. I hope to have your support on November 2nd and thank you so much for taking the time to read this and learn more about me.
Both City Council candidates were asked to answer the same set of questions in writing. These responses are theirs in full in their own words.
See the Q&A with incumbent City Councilor Cesar Stewart-Morales.
Sign up for the District2Framingham.com email list!!

Sign up for the District 2 email-list.