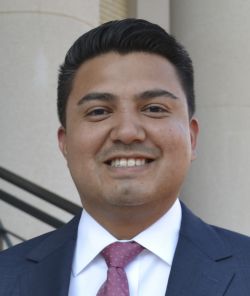 Why are you the best choice for District 2 City Councilor?
Framingham is my hometown and the place where I am raising my children. I have lived in southeast Framingham and in the northeast. While these places are only a few miles apart, the journey has been challenging and I have learned a lot along the way. I am a certified public accountant and a senior finance professional that has worked in the energy industry for 15 years. I currently work as the Accounting Manager of Vineyard Wind. I am an active member of the community and I volunteer my time to help other Framingham residents. It has been an honor to serve as District 2 City Councilor and I believe I am the best person to continue doing so because I can put the right mix of real world and professional experience to work for the residents of Framingham. I ask for your continued support and for your vote on or before November 2nd!
What are the top three issues you want to work on in the 2022-23 term?
Economic Development – District 2, and Framingham as a whole, have a lot of work to do to further develop opportunities for city businesses. We need to think creatively about a post-pandemic world and the new commercial landscape and about how we can capitalize on those opportunities. Framingham needs to hire a dynamic leader to run our Planning and Community Development Department and I believe that the City Council has to be a partner in this process. I will work towards making progress in this area for Framingham.

Municipal Aggregation – As Chair of the Environment and Sustainability Subcommittee of the City Council, I proposed starting the process of municipal aggregation in response to a citizen petition. Municipal aggregation would allow Framingham residents and business owners to pool their purchasing power to enter into a contract for electricity that could provide up to 100% renewable energy at competitive rates. The city will soon select a vendor to help us navigate the process. I will do all I can to support that process to make sure we get the right plan in place for Framingham residents and that all voices are heard as we make the important decisions needed.

Investing in Infrastructure – Residents pay taxes and expect to receive basic yet high-quality services from the city. In the last 2 years, we have faced uncertainty due to the pandemic and my colleagues have been hesitant to make the investments needed to support our city's infrastructure needs. We have an ever-growing list of capital projects that need to be addressed. Framingham is financially healthy and we should not have roads that are unusable, sidewalks that people can't walk or run on or that are not ADA compliant, and we should not have buildings that are falling apart. Deferring costs saves us money today and costs us more tomorrow.
How would you work to implement your ideas on those issues?
I have proved to be successful as the Chair of the Environment and Sustainability Subcommittee in working with my colleagues on the Council, with Framingham residents, and with the Mayor's administration. My experience working in a corporate environment with teams of people with varied skillsets and unique personalities comes in useful when working with others on city matters. I will continue to do this to work on the priorities that are important for Framingham residents, including the ones I mentioned above.
There is a lot of neighborhood unhappiness over the Nobscot redevelopment project, both the shopping center and intersection redesign. What are your thoughts about this, and what if anything can/should the Council do about it?
The Nobscot Plaza has long been a point of dissatisfaction with residents in the area. The site was all but abandoned for decades. I agree with residents and I, too, would love to see the project move along at a faster pace than it has been moving so far. If there are project approval-related conditions that are not being satisfied, then as a city, we should make sure the city is holding the plaza owner to the agreed upon terms. It is important to note that there has been progress made, though. The Chapel has been restored and moved. The relocation of that building will allow the City to implement a redesign to that intersection that is meant to alleviate the congestion and traffic issues that have long characterized that part of Nobscot. We have secured grant money to make these improvements including widening the road. I believe it is best to move forward with the plans for redesign and then focus on how we can further improve that design in the future.
What if anything would you like to see changed in the city's current budget priorities?
In the last two years, the Finance Subcommittee's appetite for approving capital budget items, which are typically large projects or parts of large projects that have a significant impact to our city's infrastructure, has been very limited. While the caution was understandable in the Spring of 2020, I believe that we were far too conservative on long-term capital spending in the last budget cycle.
Framingham is a large community with miles and miles of roadways and sidewalks. We have bridges, important structural building restorations, including the buildings in Watson Place, and other infrastructure that we need to stay on top of. Delaying these projects only causes us to pay more in future years.
The other effect is to delay bold investments in projects that could help Framingham make real headway on environmental issues or on creating additional resources, like the much-desired community center that our city is lacking, and more spaces for arts and culture. When the list of needed repairs gets longer and more expensive each year, there is little room for funding the projects that residents really want to see become a reality in our community. We need to commit to keeping on top of steady funding for our basic infrastructure needs, develop a bolder plan for the future and seek out opportunities to fund some of the critical investments that will further enrich our community.
How would you like to see the city move forward in this stage of the Covid-19 pandemic?
Our community has done well in taking the precautions necessary to keep the people of the city healthy. This has been a learning experience and it is important that we make changes today to make sure that we are prepared should another pandemic come to our city in the future. We need a Pandemic Emergency Plan in place that is well-documented, updated periodically and that is ready to use in the future if needed. With change, comes opportunity. The commercial landscape has experienced a lot of change. Framingham has the opportunity to adopt an economic development plan that takes into consideration the changing business environment and needs. We need a new, dynamic leader of Planning and Community Development in place as soon as possible in order to help our city capitalize on these opportunities. I want to see our city move forward in a position of strength out of the pandemic in more ways than one.
What have we learned after our first four years under a city form of government? What if any changes are needed to our charter?
There have been a lot of lessons learned as we have transitioned from a town to a city. I believe there are a few important changes needed to our charter as follows:
We need a more defined budget plan within the charter that outlines not just the final due date of the budget, but a few more critical milestones before that date.
In order to be a City Councilor or School Committee Member today, residents must dedicate an amount of personal time that is disproportionate to the financial stipend provided in the charter. The next charter review should consider whether or not the city would benefit from increasing the stipend to an amount that might allow residents the ability to dedicate more of their time to the role without making it a financial hardship on themselves and their families. The low stipend excludes people from participating in local government as a City Councilor or School Committee Member. We need to have this conversation as a community.
Although our local elections are "non-partisan," it's hard to ignore the fact that the leader of the city's Republican party is challenging a top official in the city's Democratic party! How will your work at your party's local committee inform your work as a City Councilor?
I have met many residents of District 2 and have had long talks with people about my views and my values. I believe the wide support that I received in my first election, a margin of victory not seen in any other race in the city that year, shows that my values resonate with the residents of the District. As Co-Vice Chair of our City's Democratic Committee, I often work on issues at the state and federal level, but many of which impact the day-to-day lives of Framingham residents. It is a natural continuation of my City Council work. The Republican and conservative members of the City Council often object to taking a position on a state or federal issue regardless of how directly it impacts Framingham residents. I believe that is a disservice to our residents.
As a City Councilor, I am helping to lead the 14th-largest city in the Commonwealth. We have 3 state representatives, 1 state senate president, 2 respected national leaders as US Senators and the Assistant Speaker of the U.S. House of Representatives representing our city!!! What Framingham thinks, matters. I will continue to use my voice as City Councilor to take a stand on important issues that will benefit the city of Framingham's residents because there is no doubt in my mind that my voice is heard and makes a difference. Framingham is the hub of MetroWest, and it can be impactful at the state and federal level.
What's the best way for voters to find out more about you and your candidacy (Web site, email list, Facebook page, Twitter, etc.)
I can be reached by e-mail at Cesar@CesarForFramingham.com or by text or phone at (508) 250-0503.
Website and Social Media:
www.CesarForFramingham.com
www.facebook.com/CesarForDistrict2
www.twitter.com/cstewartmorales
www.instagram.com/cstewartmorales
Is there anything else you'd like to say to readers at District2Framingham.com?
I am a working, finance professional with a 20-year accounting career under my belt. I am a parent, an active and fully-committed resident of the Saxonville-Nobscot area and I am here for the long-term. I am your neighbor, and I am volunteering my free time to give back to Framingham and to make sure that we have effective representation for our neighborhoods on the City Council.
My opponent's involvement in student body politics, running for the MA state senate seat a few years back, as a leader of the local Republican party, and as a full-time law student indicate that it is his goal to have a political career. While we are both vying for the same position, our qualifications and our paths to this point could not be any different. I do not plan to use the District 2 City Council seat as a stepping stone in a political career. I am simply putting my real world and professional experience to work for my neighbors in District 2 and for the residents of Framingham. I ask for your continued support and for your vote on or before November 2nd!
Both City Council candidates were asked to answer the same set of questions in writing. These responses are theirs in full in their own words.
See the Q&A with challenger Jake Binnalll.
Sign up for the District2Framingham.com email list!!

Sign up for the District 2 email-list.