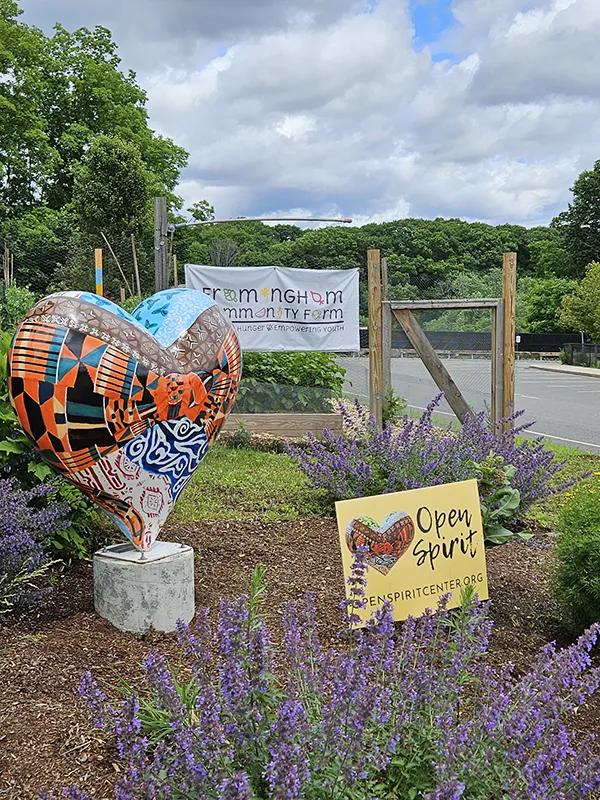 Open Spirit is hosting what it calls a celebration of beauty and creativity in its many forms – gardens, art, music, food, and community – this Saturday, June 24, 1 to 4 pm.
Art in the Garden attendees can enjoy refreshments in multiple gardens on campus: Food Forest Garden, Veterans Healing Garden, Pollinator Garden, Herb Gardens, and Framingham Community Farm (which grows produce for A Place to Turn Food Pantry).
In addition, there will be an art show in Edwards Hall featuring photography, paintings, fiber art, and pottery by local artists.
"At the center of the event will be music and poetry, culminating with unique opportunity to experience a creative interaction between painting and music," according to Open Spirit. "Local artist Patrick St. Pierre will paint as local musician Willie Sordillo plays saxophone, each responding to the other's inspiration. Following their offering, everyone present will have an opportunity to create a work of art in dialog with the live music."
The event is free, but registration is appreciated. Attendees "who wish to share their creativity through food are invited to bring a finger-food apetizer or dessert to share."
More info: https://www.openspiritcenter.org/special-events
Registration link: https://docs.google.com/forms/d/e/1FAIpQLSdiLrz9kzar7GfJdsPO4j4B23D_4MLTYeU5sQ4uu_8MOlCu0w/viewform?usp=pp_url
Open Spirit is located at 39 Edwards Street in Saxonville, off Elm Street near the Stapleton Elementary School.

Sign up for the District 2 email-list.