District 2 notched Framingham's highest turnout rate in Tuesday's election – not a total surprise given that we had the only contested City Council race without an incumbent. However, the hottest race turned out to be in District 8, where challenger Leslie White Harvey edged past long-time City Councilor/Selectmen/State Rep. John Stefanini by just 20 votes, according to still-unofficial results released by the City Clerk's office.
A dive into the results below!
District 2 City Council: Brandon Ward
Brandon Ward won all three precincts and ended up with 80.6% of the vote.
"I'm incredibly proud and excited to be District 2's next City Councilor," Ward said in a statement emailed to District2Framingham.com. "Thank you to everyone who trusted me with your vote.
"This entire process has been a truly humbling experience, and I will always do all that I can to be worthy of your trust. And now the work actually starts! I'm ready to do what I promised – to be a champion for public education, to welcome more voices into our community's decision-making processes, to be an advocate for equity and inclusion in all that we do, and to be Framingham's biggest supporter. I hope you'll stay involved and be a part of this journey with me."
Ward has launched an e-mail list for those who want monthly updates on his work in District 2 and on the City Council. You can sign up at https://forms.gle/oHepTN78hiAWv4XQ9.
Challenger Sean Silk graciously wished him well. "Thank you to everyone who voted today. I wish Brandon the best and look forward to seeing what he will accomplish," Silk posted on Facebook.
And Ward gave a nod to Silk on Facebook as well. "I also want to thank Sean Silk for being a stand-up guy, and for allowing this election to be positive and always about the issues affecting District 2 residents. I appreciate you, and I look forward to still working with you," Ward posted.
Results by precinct: (scroll to see the rest of the table columns on the right)
I didn't follow the School Committee race, since incumbent David Tomas Gordon ran unopposed.
District 8 City Council: Leslie White Harvey
John Stefanini won Precinct 5 by 17 votes – and that precinct had the highest turnout in the district. However, it was not enough to overcome Leslie White Harvey's 31-vote margin in Precinct 6 (13% turnout). She also had a 6-vote margin in Precinct 4.
"I want to thank my family for their patience and understanding, all my supporters for their tireless work, and the residents of District 8 for placing their faith in me," White Harvey posted on Facebook. "I do want to acknowledge my opponent, John Stefanini, who has been a force in our city for such a long time, and ran a good campaign. The work has just begun but I am thrilled to have this responsibility."
"I wish our new councilor, Leslie White Harvey, a hearty congratulations and Godspeed in addressing the rampant growth in apartments, traffic, climate change, and challenges to our quality of life in South Framingham," Stefanini posted. Also in the post, he said: "I am not going anywhere, and I hope you are not as well."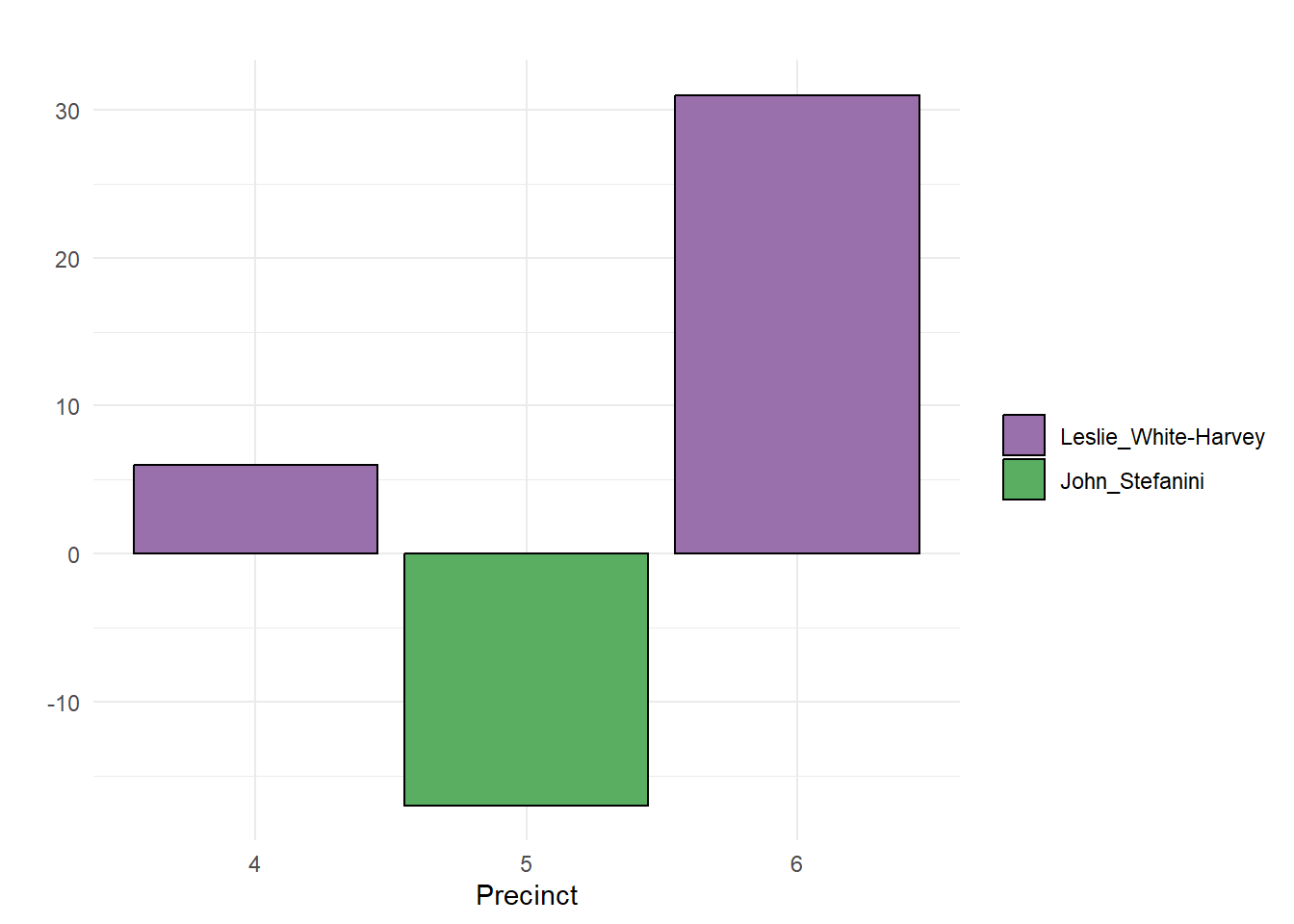 Data details:
Library Trustees
Although there was only a 11-vote margin between 5th-place Cynthia MacLean and 6th-place Heather Klish, that didn't matter since there were six available slots. The margin between number 6 and 7 was larger.
Here you can see how District 2 voted for Library Trustees compared with the city overall.
Turnout
District 2 had a 15.7% turnout rate, considerably topping the city's overall 10% rate. Precinct 25 was the highest in the city at 16.2%.
Total turnout:

Sign up for the District 2 email-list.